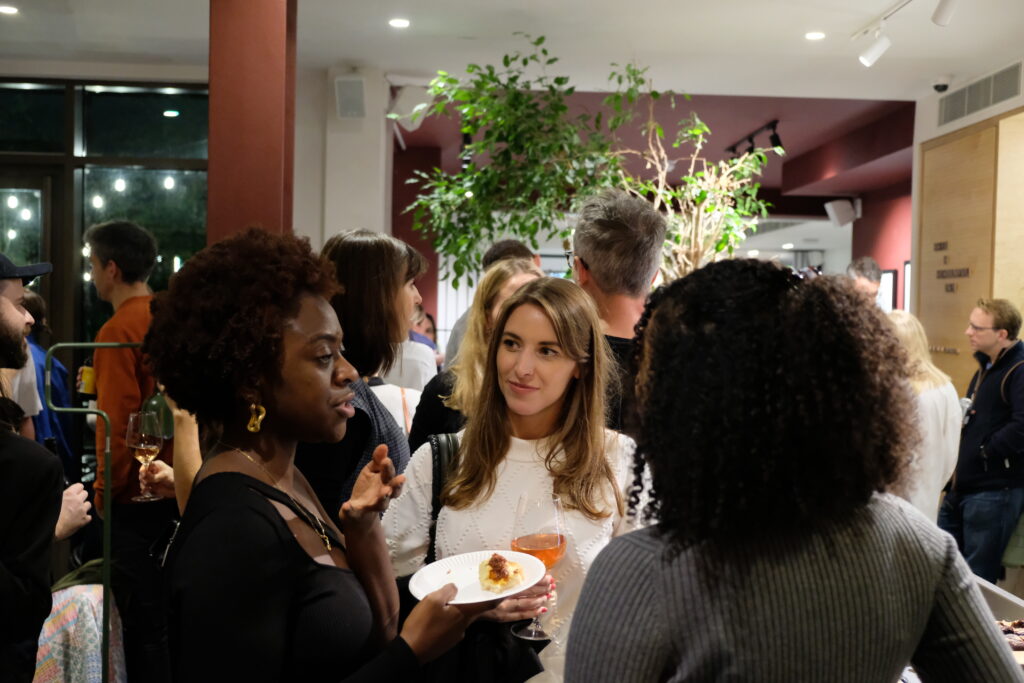 At the start of November, we gathered in person to celebrate the launch The Now Work. We were joined by a panel of four incredible thinkers who shared their insights into how we might build a better future of work that accelerates sustainability, without compromising personal sustainability. Here's a quick recap of the discussion. 
On the evening, we were joined by Christina Disler, a workplace wellness expert who recently launched, Aster, an AI-powered people analytics platform in service of a better human experience at work. It reduces noise and creates deeper transparency around what's happening in our businesses and with our teams.
We were also joined by Kevin Morosky, proud Virgo, film director, and creative. Aware of the fact he was often brought onto advertising projects as a diversity hire, with little say in the actual content he was shooting, Kevin worked to get on the other side of the ad industry. He quickly became a creative known for inclusive and insightful storytelling. He is the co-founder of Pocc, the creative network that champions Black and Brown voices in advertising. Kevin is currently self-financing More Time, a workplace mockumentary, and is developing his first feature with the BBC.
We we were joined by Katy Zack, a sustainability consultant who has most recently worked with the UN Environment Programme on sustainable fashion and building the Tech Zero community to get tech companies of all stages to start their climate journey.
And finally, we had Sally Oldfield, Managing Director at Accept & Proceed, a B-Corp Design Agency fully committed to reimagining and redesigning the world we've been given to solve. She currently steers the agency into its new era of strength, creativity and heightened reputation, bringing over two decades of experience in creative management and applied multi-disciplinary practice to bear.
Our panelists shared their insights into the changing world of work and how, when we truly centre talent and their full needs as human beings, it leads to better and more impactful work. While that may sound obvious, the structures and systems in place which dictate how work happens are deeply entrenched and too often holding people back. And it's something that talent is no longer willing to put up with.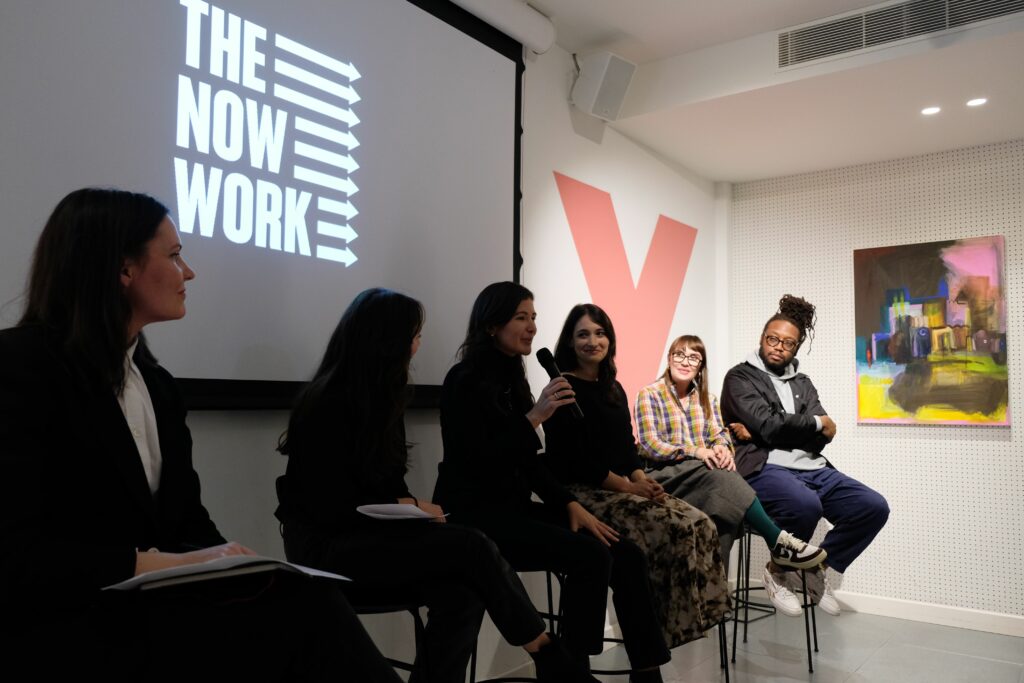 Exacerbated by the pandemic, we're still seeing vast swathes of people quit their jobs. Economists called it 'The Great Resignation'. Other thinkers have called it 'The Great Reimagining' whereby people are rethinking their relationship to work and redefining what work means. Our panelists agreed that we're certainly on the cusp - if not in - a new work paradigm. But what does this actually mean in practice? And how can we shape a future of work that works for all?
Here are some of the insights they shared.
Value transparency
Pay and renumeration are seemingly one of the most taboo subjects in the workplace, too often shrouded in secrecy. For employees, a lack of transparency around pay can lead to a breakdown in trust and, ultimately, complete disengagement. So, how can organisations avoid this? For film shoots, Pocc has opted for pay equity across positions. They have implemented a policy whereby everyone - from the director to the production crew - are paid the same. It's a move that recognises that on a film set, and beyond, we are truly greater than the sum of our parts. Another suggestion from our panel was establishing pay bands structures and sharing these with the team openly.
Interventions like this don't just foster a more trusting culture internally, they could help to tackle pay inequity when it comes to the gender pay gap and the class pay gap. Leaving it up to individuals to negotiate salaries tends to disadvantage women, those from working class background and ethnic minorities.
Re-evaluate value
For freelancers, who are often factored into a project on a day rate basis, Sally Oldfield offered a brilliant new idea: could we move to a value-pricing model? The value that freelancers bring to organisations is often much greater than their day rate, so why are freelancer fees not calculated as such? It's a crucial question, and one which The Now Work will most certainly be coming back to.
See the full human being
One of the standout anecdotes of the evening, particularly for the parents in the room, came from Kevin Morosky who shared how Pocc has amended its processes and fee structure to support working mothers, organising shoot schedules around those who have caring responsibilities and also factoring in childcare fees into project budgets. The fact that the simple act, of seeing people like human beings who have needs and responsibilities outside of work, seemed so radical to many of us in the room signals just have far we have to go.
It was a sentiment echoed by Katy Zack, mother of two, who had battled many of these structural barriers at work. Katy eventually turned to freelance where she has formidably forged a career in helping some of the world's most influential organisations in tech and fashion to accelerate the climate journeys. It wasn't an easy path: taking on impostor syndrome, learning the power of saying no, and overcoming her fears. But Katy reflected how that journey has enabled to to find a new career and professional path that is constantly evolving.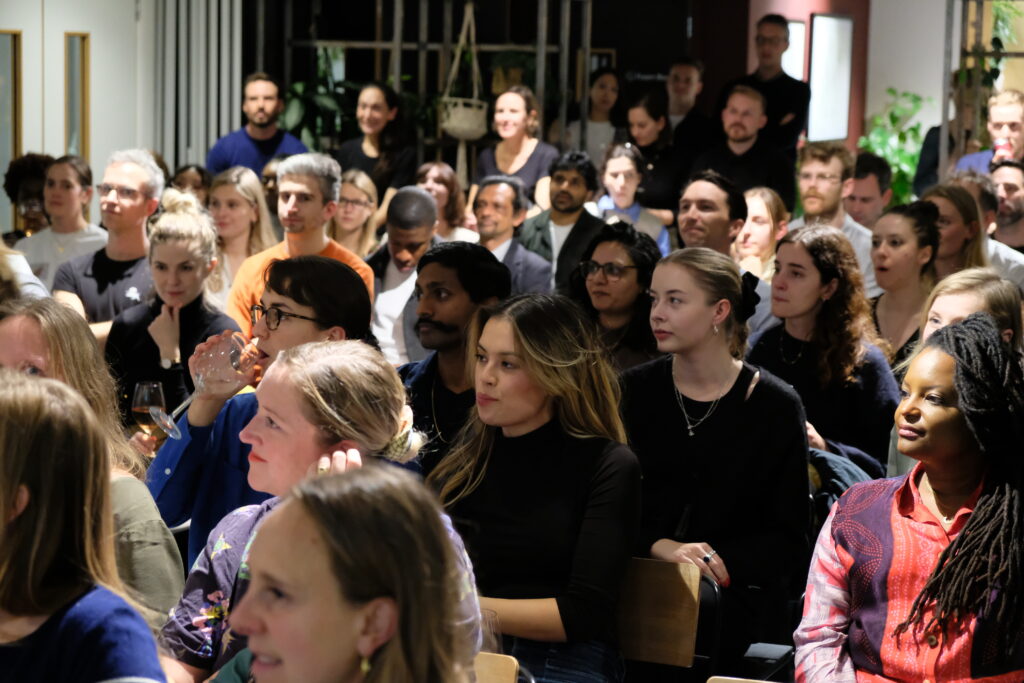 The power of pause
When we asked our panelists what each of us in the audience could do to build a better future of work, Christina Disler answered to respect the power of pausing. The pandemic forced a collective pause, so for Christina, it's no surprise that so much fundamentally shifted when it came to expectations around work during this time. For many, the pandemic offered a pause in the usual programming, a moment of introspection where so many began to re-evaluate their relationship to work. In a working world that demands so much of our time, energy, ideas, output it's easy to get swept up and burnt out. The simple act of stopping and pausing can offer a powerful antidote to this.
The future of work is now
Our final question was 'What will the future of work look like?' Our panelists all agreed that the future of work is being built and shaped today. It means what we do today counts. For people working on sustainability issues day in and day out, it's crucial that we create safe spaces that enable creativity and ingenuity to flourish. Transparency, flexibility, the power of community, opening up access to opportunity and designing work processes that are enabling for marginalised groups are some ways that we can make it happen. So let's get to work.
A huge thank you to our panelists for helping us to launch The Now Work with such a fascinating and expansive discussion. Thank you to all of our guests for coming along to celebrate our launch. And also thank you to X and Why for generously hosting us and Greedy vegan for the delicious food.