In this series, we profile some of the incredible change makers in our community. Find out how they're using their strengths to tackle the biggest societal challenges through a flexible career that works for their lifestyle. First up, Emmi Salonen. An independent Creative Director specialising in sustainability communications.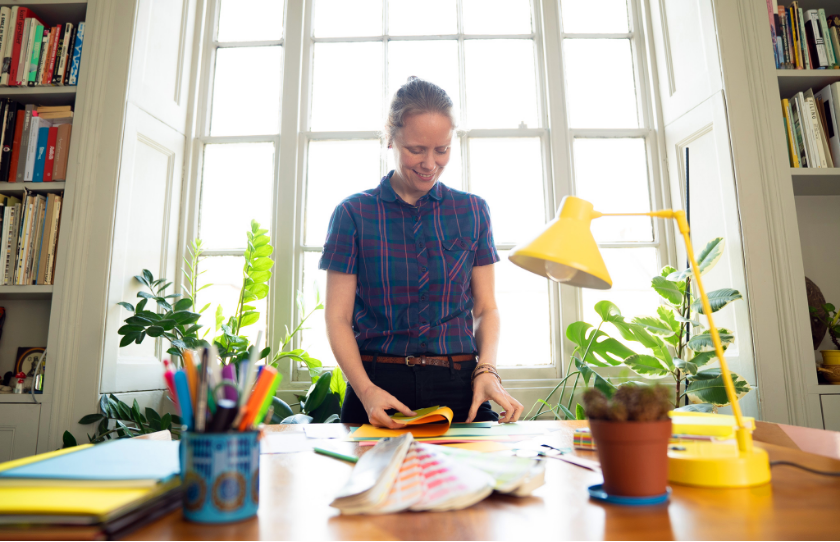 When did you start freelancing for sustainability?
I have freelanced since 2005 and it has always been ingrained in my design practise to have a positive influence on people and the planet. 
In Finland, where I grew up, there is a law called 'Everyman's Right'. It means everyone has a right to explore and enjoy nature, but you have a responsibility to do it respectfully. This idea has been foundational to my career. I started out using design for social and political commentary at Fabrica in Italy and then moved to London where I specialised in charity and third sector communications. After that I went to New York to work for design studio Karlssonwilker where I worked on various Arts and Culture projects, including designing a visual identity for the Goldman Warehouse, an art gallery in Miami. In 2005 I moved back to London to establish my independent design practice, Studio Emmi. 
Where do you work right now?
Most of the year I work from my home in North London. During the summers I'm based on an island in the Finnish Archipelago and during the winter month's my aim has been to be somewhere new to inspire me and my creative output. The winter gone was spent in Lisbon.
What issues are you most fired up about tackling? 
I love teaming up with clients and other creatives from multiple fields, regardless of the issue. I've had the privilege of working with a children's hospital and on global water awareness campaigns to festivals that inspire people to imagine a better future.
The common element across all my design and how I work is wellbeing. From the creative process to the final output I believe design can bring people together and foster wellbeing. I believe working with kindness and positivity in mind is one of the biggest, sustained impacts I can have as a creative.
How are you using your strengths and skills to change the world?
As a designer, I am here to provide a service, to help and support you. I value sharing my clients' message and I am always honoured they have chosen to work with me out of all the wonderful talent out there. I know what makes people tick and design for me is a tool that allows us to create something beautiful, meaningful and accessible together.
What brings you the most joy when it comes to having a flexible career?
I continue to learn through my clients and their businesses, and having that opportunity for growth excites me still after all these years.
It's also a lifestyle that allows me to spend time on my own creative projects, and leaves me space for my physical and creative wellbeing. And of course, my loved ones.
What's the biggest challenge when it comes to freelancing in sustainability?
The want for quick answers and immediate solutions when we are all still learning, developing and creating systems that we hope will work long term.
Is there a project that you're most proud of?
This one is a hard one to answer. I'm really happy with the visual identity I created for the Finnish Institute in the UK and Ireland. Their mission is to make the world a better place through culture and from working on the brief together to the final output, they were an absolute dream client.
I'm also proud of Creative Ecosystem, a model I've developed for creative thinkers to nurture and sustain creative wellbeing.
What's your advice to someone who's thinking of taking the plunge into freelance or freelancers just starting out?
Have your financial plan in place. Make sure you have at minimum three months buffer saved up, ideally longer. No project is guaranteed until you have your pay in your account. And of course, have fun and enjoy the journey.