Thinking about going freelance? You're certainly not alone. Nearly half of millennials are opting for freelance work over permanent employment and, in the US, freelancing is set to become the dominant workforce category by 2027. This guide shares advice for how to get started in sustainability freelancing.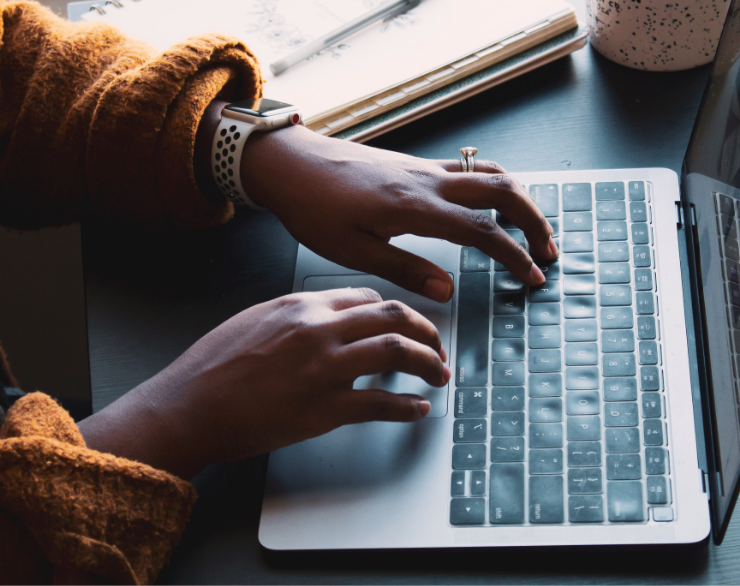 In 2021, people began leaving their jobs en masse. (And that was before Beyonce told everyone to quit their jobs.) Dubbed the Great Resignation, around 47 million workers in the US walked out of their jobs last year. And despite widespread predictions of a slowdown, data shows people are still leaving positions in spades, and that many workers who haven't yet resigned plan to do so in the coming months. In a survey of workers in the UK, almost a third said they're planning to quit soon.
But, as YES! Magazine recently informed us, the so called 'Great Resignation' is actually a 'Great Reimagining'. People aren't just quitting, they are re-shaping their careers into something that works better for their wellbeing and life. If you're considering doing something similar, it's safe to say you're not alone. A new role, career pivot, switching professions, or going freelance are the modus operandi for those looking for better work-life balance and values alignment. In fact, more than one-third of the U.S. workforce freelanced last year alone, with freelancing growing the most among the most educated.
But how do you get started as a freelancer in sustainability? If you're considering going freelance but aren't sure how to begin, you're in the right place. Here are The Now Work's five steps to going freelance.
STEP 1: CONNECT WITH YOUR PERSONAL MISSION
Now's the time for some expansive thinking.
Your personal mission acts as your north star. When things get tough and doubt creeps in, your personal mission will help you to remember who you are, what's important to you and will keep you grounded and on track. (Caveat: it's more than okay if your mission changes over time. Life happens and priorities change!)
There's plenty of advice online about writing a personal mission. But in the sustainability space, we'd recommend you start by watching Dr Ayana Elizabeth Johnson's Ted Talk: How to find the joy in climate action. In the talk, Johnson suggests drawing a Venn diagram to map these questions: What are you good at? What is the work that needs doing? And what brings you joy? Where your answers intersect is where you should put your effort. This is great starting point for thinking about how you want to make a positive impact through your career, for the climate and beyond.
Some examples of personal missions from our founding team:
To use sustainability communications, systems thinking and human-centred design to help shift people's relationship to consumption.
To help build a future of work that centres individual happiness and collective abundance
Here are some questions you can ask yourself:
What issues inspire you?
What do you love doing?
What don't want you want to do?
What values drive you?
What does success look like?
Once you've done some reflection, write your personal mission down. Keep it brief – no more than two to three sentences.
STEP 2: DEFINE HOW YOU WANT YOUR WORK TO FIT WITH YOUR LIFE
At The Now Work, we're big believers that work should leave ample room for life. In the social and environmental impact space, it's easy to let work take over life. So, make sure that you interrogate how you want to work, what type of work you want to do and, crucially, how much you want to work. Try imagining a day in the not-to-distant-future where your work and life are in balance. What does that day look like? What are you doing and who with? How much are you working vs doing other things that you love? Having a clear picture of the work and life you want to create will give you a little bit more confidence in your decision to go freelance (or not) and keep you focused over time - knowing when to say no and avoiding burn out. [link to article on blog]
STEP 3: ARTICULATE YOUR OFFER
Your skills, experience and strengths are unique and hugely valuable. When you're reaching out to new clients who you've never worked with before, having a clear articulation about what makes you different and how you can uniquely help will be hugely beneficial. However, getting to that articulation can be tricky for new freelancers, especially if you've been so busy doing the work that you potentially haven't noticed the unique value you bring to projects. There are a few exercises you can do to help here:
Ask previous colleagues for feedback. What did they rely on you the for the most? What do they see as your unique skills and strengths? Ask a handful of people (the more the merrier) and you'll soon spot some clear themes.
List out 2-3 impressive accomplishments. Give yourself a pat yourself on the back and then think critically about what skills and experiences enabled you to succeed.
Think about a challenging project you've worked on. Whether it was for a client or in-house, what was your unique contribution to getting that job done?
Tip: When you're thinking about your strengths don't just think about what you're good at; think about what you love to do and what brings you joy.
These inputs will give you some great stimulus for crafting your offer. As concisely as possible, explain what you can do, how you do it and who for.
STEP 4: WRITE YOUR BUSINESS PLAN
Think of your business plan as your 'how'. Your business plan should lay out the goals that you have for your freelance sustainability business and should also include an outline for how you're going to achieve them. Some freelancers skip this step, but we'd recommend that you do it as a business plan helps to create structure around your work. Give yourself a clear target for how much you need to invoice each month. Even if you change your goals once you get going, the goal itself can help to keep you oriented. There are lots of free business plan templates online - your business bank may also have free resource you can use. Another great thing about writing a business plan is that you have to write down who your target customers are.
STEP 5: NURTURE YOUR NETWORK
All relationships in your life take effort. Your professional network is no different. Reach out to your contacts - old and new, in sustainability and outside of sustainability. Let people know that you're going freelance and how you can help them, even if you're not quite sure where it may lead. And if you don't have a large professional network in sustainability, do not worry. We created The Now Work to help open up those formerly closed networks that are all about who you know.
And don't forget to nurture your peer network as well. Your fellow sustainability freelancers will be a wonderful support throughout your career. The Now Work is a place to connect with fellow change makers - online and IRL.
STEP 6: GET ORGANISED
Having to do everything related to running a business: accounting, IT, website, marketing, sales and admin can be a little overwhelming, especially if you've never had to do it as part of your full time job before. Remember to build these things into your weekly schedule. There are loads of tools that can help you keep on top of things.
Here are a few, many of which are free:
STEP 7: GET A SUSTAINABLE SUPPLY OF WORK
Avoiding the 'feast to famine' approach to winning work is, in our opinion, important to your overall wellbeing. It's pretty easy to slip into a pattern of winning work, working on the work and then realising you've done nothing about finding your next project. It can be stressful. That's why you should always keep your eyes and ears out for your next opportunities.
You can look in many different places for your next opportunity: your own networks, client referrals, public tenders, and platforms like The Now Work. The Now Work connects you to impact work that suits your expertise, your superpowers and your lifestyle. If you haven't signed up yet, you can do so here.
This isn't a definitive list of everything you need to do. Determining your business structure (sole trader vs limited company), setting up your bank account and branding your freelance business are all things you'll need to consider. But we hope these steps will help you answer some of the big questions as you set out on your world-changing freelance career.